GVC Derek Hanson Memorial Driving School 3rd Ann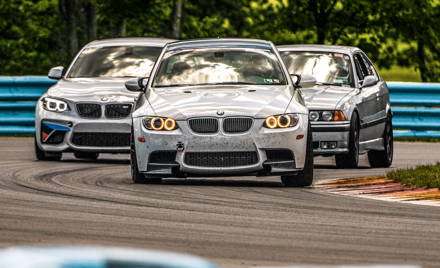 BMW CCA - Genesee Valley Chapter
Friday, Sep 30 — Sunday, Oct 2, 2022
Watkins Glen International
,
Watkins Glen

,

NY
Registration closed September 25, 2022 11:59 PM at 2022-09-25T20:59:00-0700 Registration ends September 25, 2022 11:59 PM at 2022-09-25T20:59:00-0700 Registration opens November 23, 2021 12:00 AM at 2021-11-22T21:00:00-0800 Registration runs from November 23, 2021 12:00 AM to September 25, 2022 11:59 PM



GVC Derek Hanson Memorial 3rd Annual
Driving School #114
Hybrid HPDE at the Glen
Features Open lapping, 2 instructed Groups that include Novice through Advanced
Watkins Glen International
Looking for quality track time? Perhaps something extra? This is the event for you!
The Hybrid HPDE is the fourth of four GVC HPDE's for 2022. This event combines abundant open-track time for instructors, solo-level drivers and approved advanced drivers with intensive on-track and classroom instruction for all levels of student drivers on the theory and practice of high-performance driving.
In car excellent Instruction and coaching!!
We (GVC) offer in-car instruction/coaching (driver and instructor) at HPDE's, as well as other dual-occupant driving events (e.g., driving tours, safety schools) under the following circumstances:
Both occupants in the car must agree to in-car instruction. If not comfortable with in-care, we provide the optino of lead-follow.
In-car instruction is completely optional
Separate registration for in-car option will be sent by registrar via email.
Event Features
1 to 3 days Open-lapping for Solo (GVC Group S or equivalent, SLIP* L4 and up), instructors, and pre-approved Advanced (Group 2, L3-4) students.
Two-day Driving School in 2 instructed groups from Novice, Intermediate and Advanced students (GVC Groups 4, 3, 2 SLIP L2-4), Saturday and Sunday
Items of note:

All standard BMW CCA HPDE safety protocols and passing rules will be in effect.
Instruction/coaching is available by special arrangement for open-lapping drivers new to the Glen or otherwise in need a bit of help.
If you are unsure whether you qualify for open-track, please contact the Registrar or a GVC Chief Instructor.

***************************New Pricing $70 for 2 days of Advanced Data Coaching******************************************

Advanced Data Coaching is available to all open lappers who are interested in taking the next leap in driving skill development. A highly-qualified Data Coach will work with you to utilize data from your vehicle to reveal opportunities for improving your driving technique. In addition to personal 1-on-1 coaching, we have a limited number of AiM Solo 2 data loggers to use for the weekend at no extra charge. We are confident that you will see track performance gains that will rival modifications to your car costing thousands of dollars by improving the most important component in your car - you! Fee is $70 for 2-days of coaching. No money due at registration; we collect the fee (cash or check only) at the event. Only six AiM units available, so don't wait to sign up!
Event Format: On-track sessions run Friday from 8:30 AM to 4:30 PM, Saturday 8:30 AM to 5:30 PM, Sunday 8:00 AM to 4:00 PM
Friday: Open-track for instructors, GVC Group 1 (Group S), A-plus (A-solo) drivers from other chapters/clubs, and pre-approved GVC Group 2 (Advanced) drivers*.
Saturday and Sunday:
GVC Group 4 (Novice) students, Group 3 (Intermediate) Students, Group 2 (Advanced) Students will be combined into Two instructed run groups, with Four 25 min. per day.
All others: Open Track format with breaks for the two instructed run group sessions.
Track Schedules: Will be sent out to all attendees approx. one month prior to the evernt

Bonus Features (complimentary unless otherwise noted)
GVC Driver's Resource Center: The center of school operations. Helpful advice and assistance for all participants and guests
Mechanical and technical services for your car provided on-site by "The Little Speed Shop" (discounted parts and labor for participants)
Tire and performance parts auctions, beverages, and other goodies courtesy of our generous sponsors
Friendly and helpful staff to make this experience your "Ultimate Driving School"
Open Lapping: If you have not run with GVC and have not been approved for open lapping but think that is the group for you, please provide your driving resume to the Registrar or a GVC Chief Instructor. You do not need to be Group S or apply for Group S checkout for open lapping.
*Group S Checkout
Group S is open only to upper-level experienced drivers who have previously been checked out and approved for the Group. Admission to Group S requires a checkout by the Group S coaches.
Drivers wishing to check-out for Group S MUST register using the "Group S checkout" option. This is a three-day registration option limited to 5-6 drivers. Checkouts are typically done by the GS coaching staff on Friday morning. Once approved for GS, drivers are automatically pre-approved to register for Group S at future GVC events without the need for further evaluation. At this event, drivers who do not pass checkout may remain for Saturday and Sunday as open-lappers with the approval of the GS Staff and the Chief Instructor.

Complete details about our HP driving schools, including the Group S application procedure, may be found here:
http://gvc-bmwcca.org/What_is_a_Driving_School

Registration and Fees:
BMW CCA Members: GVC chapter members are afforded highest priority for slots at our events, followed by BMW CCA members from other chapters. Non-members are charged an additional $100 above member fees. GVC will apply $58 of the non-member fee pay for a one-year new (or renewed) membership in BMW CCA. Join the club today to avoid the $100 non-member surcharge! http://bmwcca.org/index.php?pageid=new_member

Registration after the deadline is only possible by special arrangement, and only if there are still slots available (call or email the Registrar: registrar@gvc-bmwcca.org).

Fees (BMW CCA members; Non-members add $100)

Instructed Groups Novice, Intermediate, and Advanced (Group 4, 3, 2): $650 (Sat/Sun) only. Personal instruction (in-car and/or lead-follow, depending on COVID-19 restrictions), and classroom sessions both days.
Pre-Approved Lapping Advanced (Group 2): $675 (Sat./Sun). Lapping Sat. & Sun.; Friday open track add-on option for pre-approved* G2 drivers only: add $250
Group S checkout applicants: $975 (Fri.-Sun.). Group 2 (Advanced) drivers seeking admission to Group S. Includes open-track Friday as a tentative member of Group S pending a checkout ride. Drivers failing checkout are refunded/credited $200 for Friday. BMW CCA members ONLY.
Group S (Solo), members ONLY:

Group S 2-day weekend: $675 (Sat.-Sun., 5 track sessions)

Friday open track add-on option: $250.

Group S Friday open-track and Saturday only: $725.
Group S Friday open-track ONLY: $395

Instructors:

Friday - Sunday: $175. Includes Friday Orientation Day, minimum 3 sessions each day Sat and Sun.
Fri - Sun., sharing a vehicle: $100
Sat - Sun only (no open track): $150
Garage Bays:

Instructors $60
Students (If available) $60 Purchase on site
GVC Loyalty Reward
Sign up for all four GVC HPDE's events for 2022 (Pit, 2 WGI events and one NYST) and get a $150 refund!!
Cancelations:
Fees may be refunded or credited toward a future GVC Driving School only if cancelation occurs before the registration deadline.
No refund or credit after the registration deadline unless we can fill your run group slot with another driver.
Accommodations
The host hotel is the historic Seneca Lodge (http://www.senecalodge.com/) located at the upper entrance to beautiful Watkins Glen State Park off NY 329. The Lodge is famous for its food and racing heritage. The bar is notable for its collection of over 60 years of racing memorabliia, as well as an extensive selection of fine beverages. Another favorite place to stay very close to the track is the Falls Motel in nearby Montour Falls. http://www.thefallsmotel.com. These lodgings fill quickly, so make reservations early.
Many other accommodations are available in Watkins Glen, from cozy bed-and-breakfasts to the luxurious Watkins Glen Harbor Hotel.

Camping at the track: Not available.
Off-site camping: Available at nearby Watkins Glen State Park and other private campgrounds.

For more information, please consult our website: http://gvc-bmwcca.org/Info_About_Watkins_Glen